"DRO" Named Citizen of the Year
Posted on 03/10/2008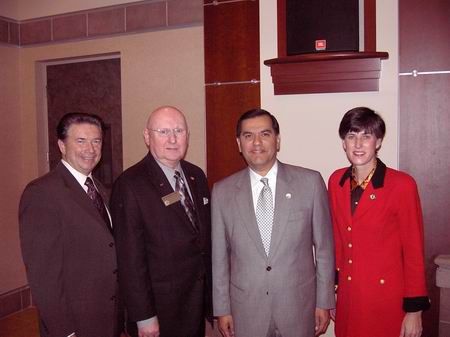 David Russell Ohrn (second from left), co-owner of South County Printing, was honored by the Laguna Hills and Laguna Woods Chambers of Commerce on Friday, March 4, 2005 at the Laguna Hill Community Center.
"DRO" as he is known to most people in South Orange County California was selected as the "2005 CITIZEN OF THE YEAR".
The presentation was made jointly by Chamber President Kay Kearney, of Doctor's Ambulance (photo not avaialable) and Tom Wilson (Far Left), County Supervisor of the 5th District, of Orange County California.
Also in attendance was Peace Corps Director Gaddi Vasquez (Second from right). Assemblywoman Mimi Walters of the 73rd Assembly District of the California State Legislature (far right)Orange County Fire Authority Chief, Chip Prather and a large delegation of his fire authority personnel were also in attendance.
Members of the Chamber and many City Officials were also in attendance at the annual event. "DRO" is the 13th Citizen of the year named by the Chamber.
"DRO" is also the Immediate Past President of the Laguna Hills and Laguna Woods Chambers of Commerce. He is also a Past President of the California Association of Business Printers.
"DRO" has been active in various community functions in South Orange County for the past 30 years.