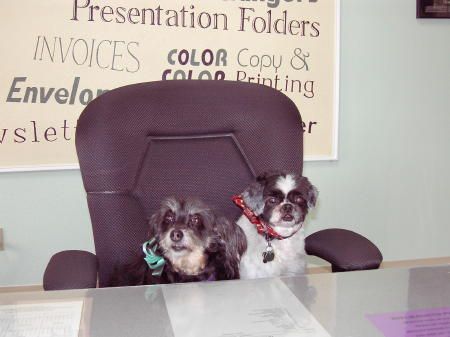 CEO "Tia" on the Left and COO "Canyon" on the Right

IN MEMORIAM "CANYON"
October 1, 1991 - September 15, 2009

IN MEMORIAM "TIA"
October 31, 1995 - April 4, 2011

Our four legged friends have been our inspiration to do great work for our clients since our founding here in South Orange County. While they are no longer with us we still value their influence for us to do great work for our clients.
We love what we do. The passion we have for our work enables us to take ownership of our clients' projects. We constantly strive to deliver the highest-quality products possible.
There is no greater satisfaction than delivering a finished product that helps a client reach their goals and objectives.
Mission Statement
Our mission is to exceed client expectations by providing the highest-quality product possible in a timely manner. We create long-lasting, prosperous relationships with our client partners in order to help them reach their goals and objectives.
Company History
We're proud of the strong roots we've built in our community. We pride ourselves on being a complete source for all of your business communications needs and have always been on the leading edge of technology. We understand that an investment in technology can actually save money by improving efficiencies.
The founders continue to operate the business founded in September 1986.
South County Printing is an active member of the Laguna Niguel Chamber of Commerce.
SOUTH COUNTY PRINTING received a recognition award in 1997 for logo design and an award in 2005 for business card design.
The Company was named the 2009 BUSINESS OF THE YEAR for Laguna Niguel.
---
NEED MORE HELP?
To Reach Us, Call locally at (949) 249-1000
Our staff is available Monday Through Friday from 9:00 a.m. to 4:00 p.m. (MST)
---
Established September 1, 1986